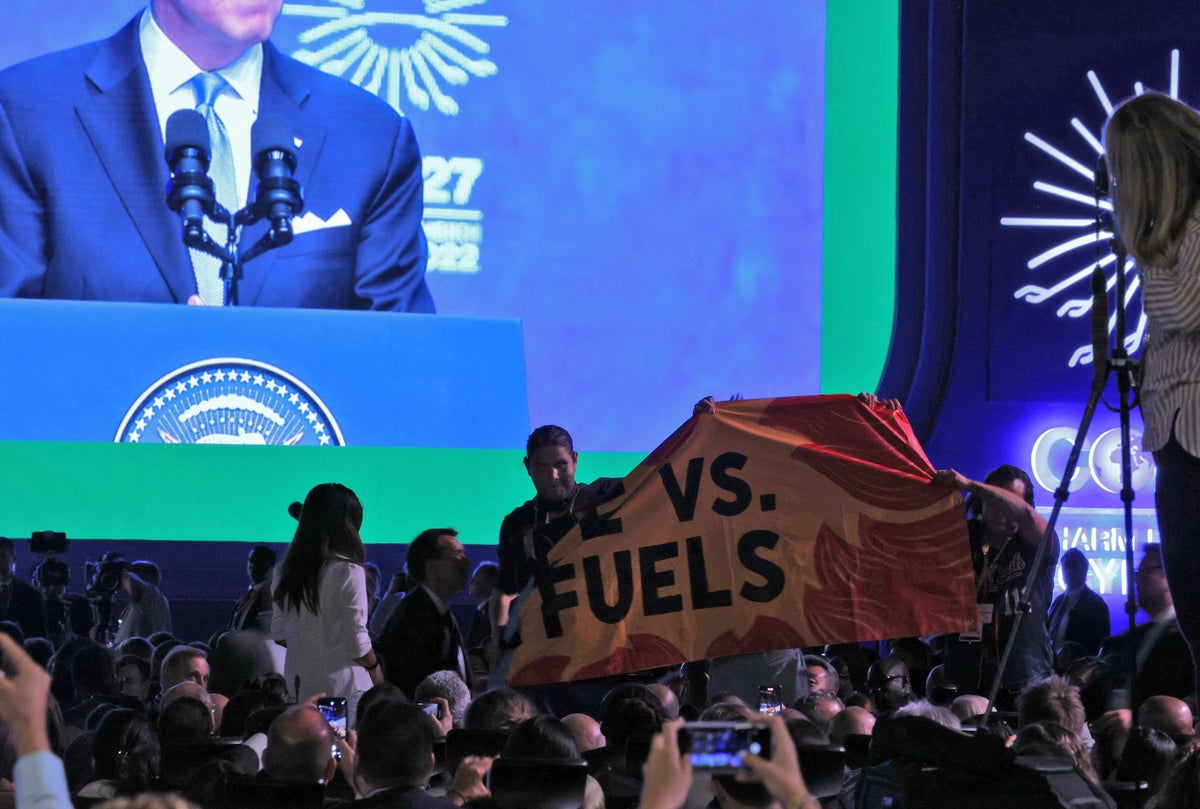 Protests erupted during Joe Biden's Cop27 speech at Sharm el-Sheikh today when he called America a "world leader" in climate action.
Young activists holding a banner with a message against fossil fuels stood up in the Nefertiti Hall venue when the US president was addressing a packed auditorium.
They jumped from their seats and interrupted Mr Biden briefly with a loud noise, causing Mr Biden to pause before he continued with his speech.
Soon after, the security officials arrived and asked them to take the banner down. The activists were then swiftly escorted out of the auditorium.
Mr Biden arrived on the sixth day of the climate summit amid extremely tight security.
US special climate envoy John Kerry, secretary of state Anthony Blinken and a delegation of top democrats including speaker Nancy Pelosi were also present at the venue.
Unlike in past climate meetings, protests have been severely curtailed at this year's summit in Egypt. However, some activists have staged demonstrations inside and in front of the centre at Sharm el-Sheikh.
The US president did not make any announcements on the much talked about Loss and Damage fund but hailed the progress the country is making in climate action.
The president said he could announce "with confidence" the country's commitment to meeting its target of reducing emissions by 50-52 per cent below 2005 levels by 2030.
"My commitment to this issue [climate action] has been unwavering," he declared.
"Today, I can say finally with confidence that the United States of America will meet our emissions target by 2030."
Poorer countries have called for Loss and Damage to be discussed at Cop, as the conference of the parties is known, for two decades. But this is the first time the issue has made the agenda.
Apart from Loss and Damage, there is also increased demand to phase out planet-warming fossil fuels entirely with increased anger against world leaders for failing to deliver on their promises.
This story was published with the support of Climate Tracker's Cop27 Climate Justice Journalism Fellowship
Source link