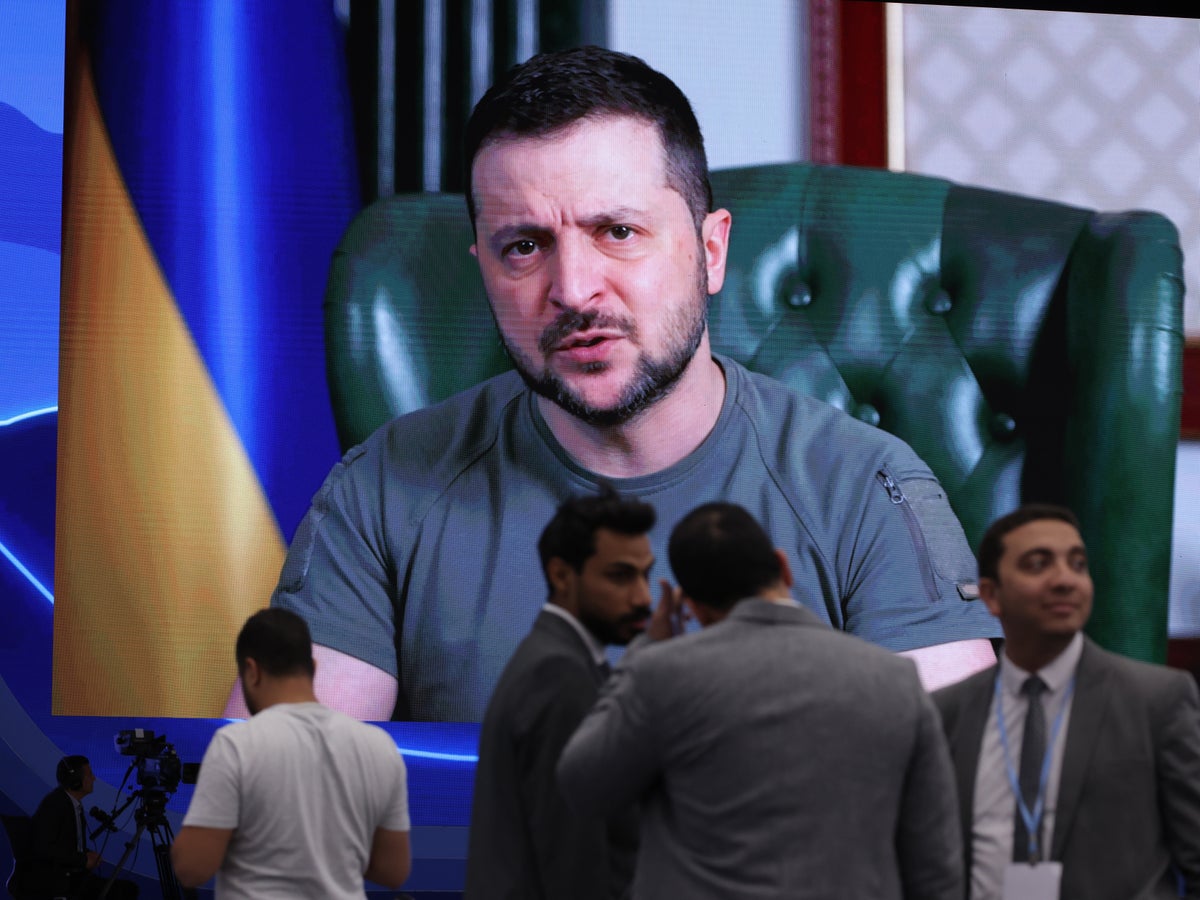 Vladimir Putin's war in Ukraine destroyed 5 million acres of forests in less than six months, president Volodymyr Zelensky has told the UN's Cop27 climate summit.
Addressing delegates in Egypt in a video message, the Ukrainian president accused Russia of hampering and distracting from global efforts to combat climate breakdown – warning that "there can be no effective climate policy without peace on Earth".
As world leaders grapple with how to control the fossil fuel emissions heating our planet, Mr Zelensky alleged that the energy crisis exacerbated by Russia's invasion has "forced dozens of countries to resume coal-fired power generation in order to lower energy prices for their people".
Half of Ukraine's own green energy capacity is now located in Russian-held territory, the head of Ukraine's largest energy producer DTEK told the summit on Tuesday, as he warned that the nation faces "one of the most difficult winters in the history of Ukraine".
Russia has stepped up its destruction of civilian infrastructure in recent weeks in the face of increasingly threatening Ukrainian counter-assaults, and the beseiged nation has overall "lost about 90 per cent of wind capacity, which is on occupied territory, and about 30 per cent of solar", Maxim Timchenko said.
Moscow's forces have also sparked global alarm after seizing the Zaporizhzia nuclear power plant – the largest in Europe – and Mr Zelensksy appealed to world leaders to help "stop those who, with their insane and illegal war, are destroying the world's ability to work united for a common goal."
"Who will care, for example, about the amount of the greenhouse gases in the atmosphere if part of Europe or the Middle East and possibly Northern Africa, God forbid, are covered by radiation cloud after an accident in Zaporizhzhia?" Mr Zelensky asked.
The Ukrainian president also accused Russia of sparking an acute global food crisis, "which hit worst those suffering the existing manifestations of climate change".
Last week, Moscow briefly suspended its involvement in a deal allowing ships carrying grain exports to leave Ukraine – one of the world's largest producers – over what it alleged was a "terrorist" drone attack on its Black Sea fleet.
The deal, brokered with the help of the United Nations and Turkey, is credited with moving nine million tonnes of grain and easing global food shortages. But it is set to expire at the end of next week, and the Kremlin said on Tuesday it had not yet decided whether to extend the agreement.
Ukrainian authorities have also previously accused Russia's forces of burning large areas of crops, granaries and agricultural equipment in its vast and fertile Kherson region – and of refusing to allow residents there to put out fires.

World news in pictures
Show all 50
In his speech, Mr Zelensky criticised world leaders for paying lip service to climate breakdown without delivering real change, saying: "There are still many for whom climate change is just rhetoric or marketing … but not real action.
"They are the ones who hamper the implementation of climate goals, they are the ones in their offices who make fun of those who fight to save life on the planet, although in public they seem to support the work for the sake of nature."
"They are the ones who start wars of aggression when the planet cannot afford a single gunshot because it needs global joint action."
Ukraine is hosting an exhibition space this year in Sharm el-Sheikh for the first time at a UN climate conference and members of Kyiv's delegation said they hoped their presence drew global attention to the climate and environmental consequences of Russia's invasion.
"It's important to show the situation in Ukraine," said Svitlana Grynchuk, the country's deputy environment minister, adding: "We have a lot of plans for rebuilding our country. It will be greener."
Additional reporting by agencies
Source link