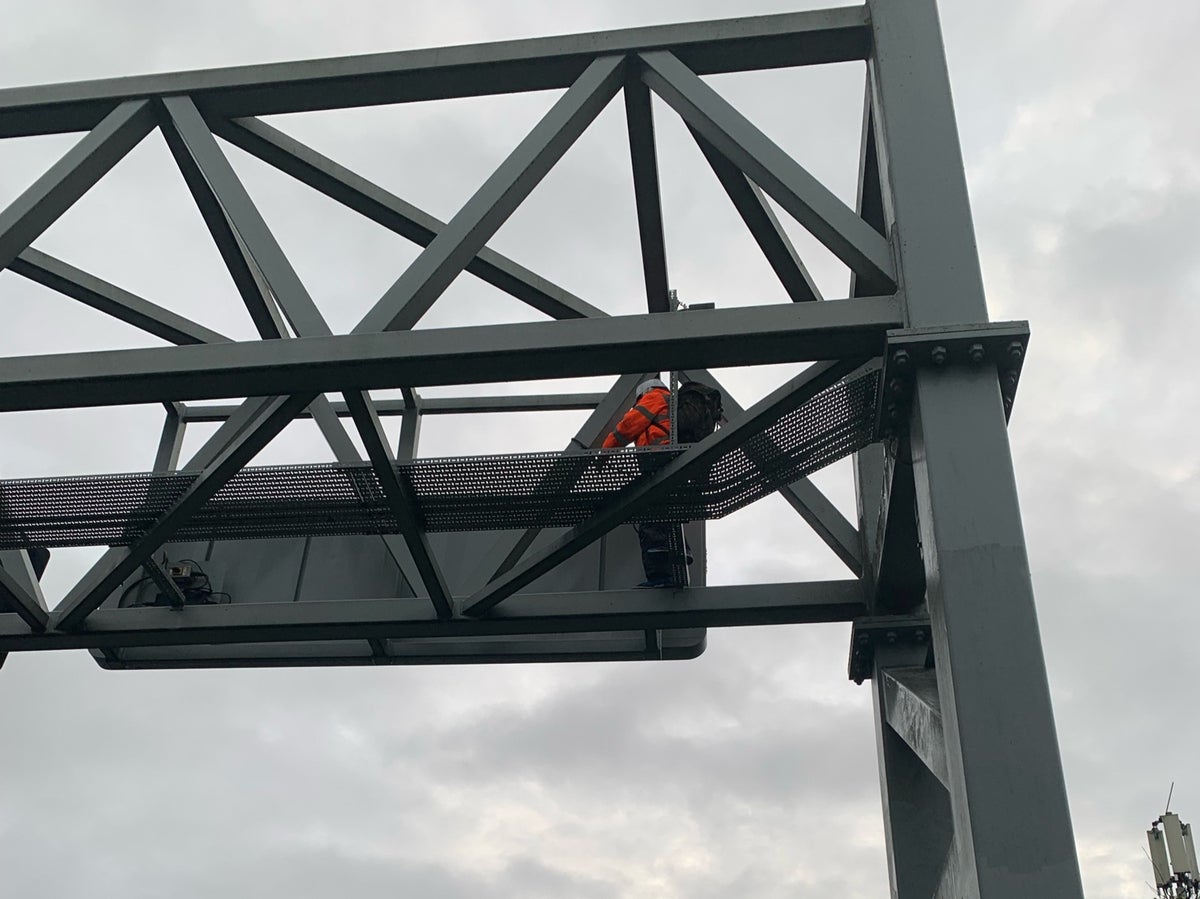 Just Stop Oil activists have shut down sections of the M25 as protesters climbed onto motorway gantries along the motorway.
Stretces of road between Junctions 6 and 7 in Surrey and Junction 25 in Waltham Cross have been closed as police deal with the demonstrations.
Surrey Police said the decision was made to close the road "for the safety of everyone" while officers attempt to remove the activist.
The force later tweeted protesters were at gantries at other junctions along the motorway on Monday morning.
It comes after police made a series of arrests ahead of planned action by the Just Stop Oil climate protest group.
Have you been affected by Just Stop Oil? Get in touch with zoe.tidman@independent.co.uk
Surrey Police said National Highways had decided to shut the road from junctions six to seven northbound on the M25 "for the safety of everyone involved" due to the action.
"Please avoid the area if possible. The protester removal team are on scene and preparing to go up onto the gantry," the force tweeted around 8am.
Around 20 minutes later, it said: "We now have reports that we have protesters on the motorway gantries at junction 6, one between junctions 8-9, one between junctions 13-12 southbound and one between junctions 13-14.
"We are here and dealing and will get this resolved as soon as possible. Thank u for your patience."
The Metropolitan Police said a protester had also climbed onto a motorway gantry at Junction 25 on the M25 on Monday morning.
The force said: "The road has been temporarily closed at this location (anticlockwise).
"Specially trained officers from our protest removal team are on their way manage the scene."
Essex Police said it was also responding to reports of a protester on an overhead gantry at Junction 30 of M25.
Just Stop Oil shared a video from the viewpoint of a motorway gantry on its social media on Monday morning.
"Supporters of Just Stop Oil have climbed onto overhead gantries on the M25 at multiple locations, halting traffic," it said.
The climate action group reiterated its call for the government to end all new oil and gas licenses.
It shared a video of a tearful protester on top of a motorway gantry. "I'm here because I don't have a future," the young woman said. "You might hate me for doing this, but I wish you would direct all that anger and hatred at our government."
A government minister said any Just Stop Oil protester causing parts of the M25 to close down deserved to spend Christmas in prison.
"It's completely wrong to disrupt people's lives this way," Grant Shapps, the business secretary said, adding: "I hope that justice is served up to these people."
More follows…
Source link