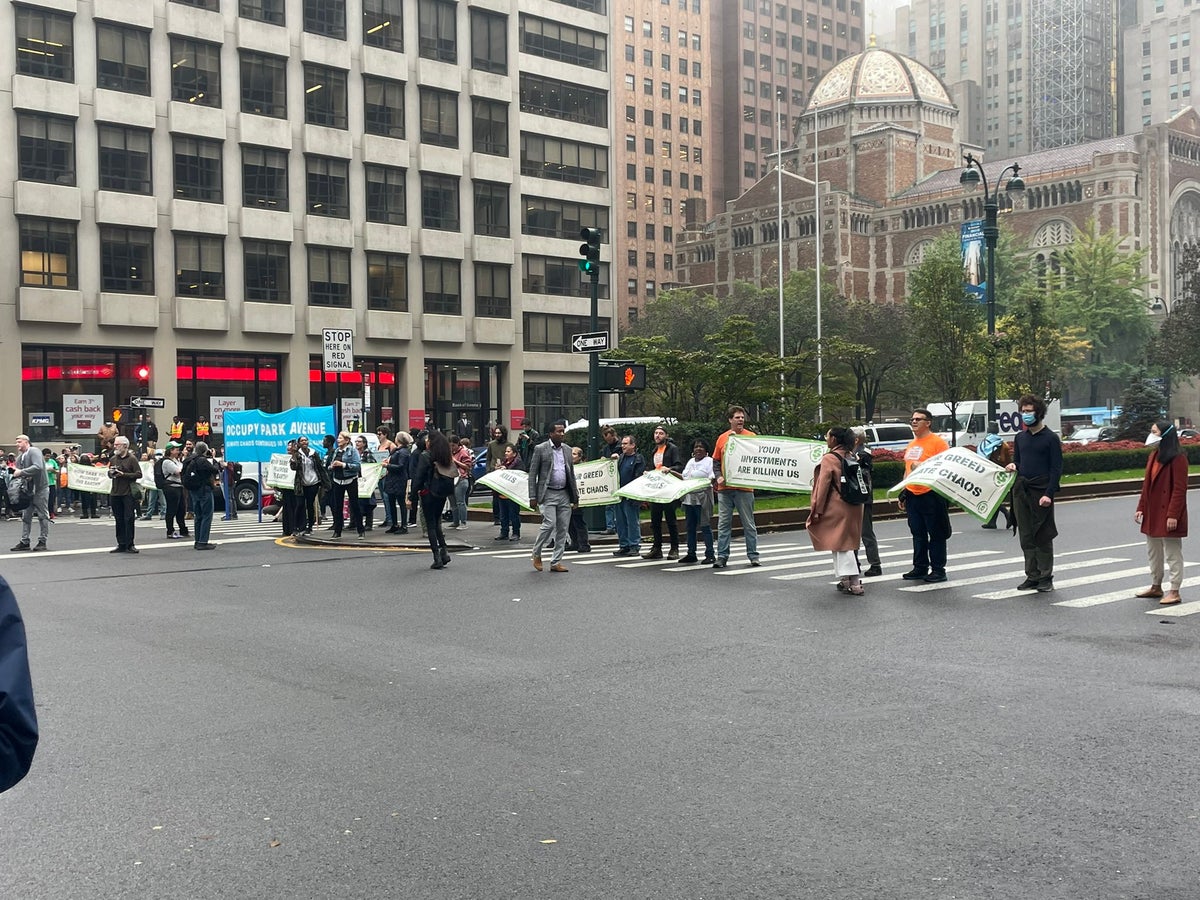 Protestors blocked New York City's Park Avenue on Tuesday, demanding action on the climate crisis and taxes on the wealthy.
Video shows activists being arrested as they blocked the street, home of many of the city's wealthiest residents.
"Our communities are living through a climate crisis and a housing crisis at the same time," tweeted activist group New York Communities for Change (NYCC).
"@GovKathyHochul must #TaxTheRich for green affordable housing for all."
The Independent has contacted a representative from NYCC for comment.
One sign shaped like a check read "Tax The Rich For: Green Housing for All". "Green housing" refers to the idea of homes and apartments with a low climate impact, such as eschewing fossil fuel heating for electric heat pumps or installing solar panels.
Another banner read: "Climate Chaos Continues 10 Years After Sandy", in reference to Superstorm Sandy, which barrelled into the region a decade ago. That storm, which made landfall on the New Jersey coast, created $65billion in damages and killed more than 100 people in the US, including 54 people in the state of New York.
A representative for the New York Police Department told The Independent that by shortly after noon, 15 people had been arrested and all lanes of traffic had been reopened.
The action appeared to be part of a series of protests labelled "#OccupyParkAve" planned for this week.
A tweet from the New York City chapter of activist group Extinction Rebellion on Monday announced a week of action from a collection of groups including NYCC and the NYC chapter of Sunrise Movement.
On Monday, activists interrupted an interview with Senator Ted Cruz on ABC's morning show, The View, in New York to protest the Texas Republican's appearance and the network's coverage of the climate crisis. One protestor called Mr Cruz a "climate-denying piece of s***", which received applause from some of the audience.
Alice Hu, one of the protestors and a climate campaigned with NYCC, told The Independent on Monday that "the media is a hugely important pillar in society to move and to sort of galvanise to cover climate change more."
When asked for comment from The Independent on Monday's interview, a representative for Mr Cruz pointed to the lawmaker's comments during the taping.
"I'm really glad you don't have a Van Gogh on the wall," the senator said during The View protest, in apparent reference to soup being thrown at a glass-covered Van Gogh painting by protesters in London earlier this month.
Activists with Just Stop Oil in the UK have been doing daily protests to bring attention to the climate crisis, including the soup-throwing.
On Tuesday, activists sprayed paint on the headquarters of some right-wing think tanks and fossil fuel lobbyists – and on Monday, protestors were arrested after smearing cake on a wax figure of King Charles III at Madame Tussaud's in London.