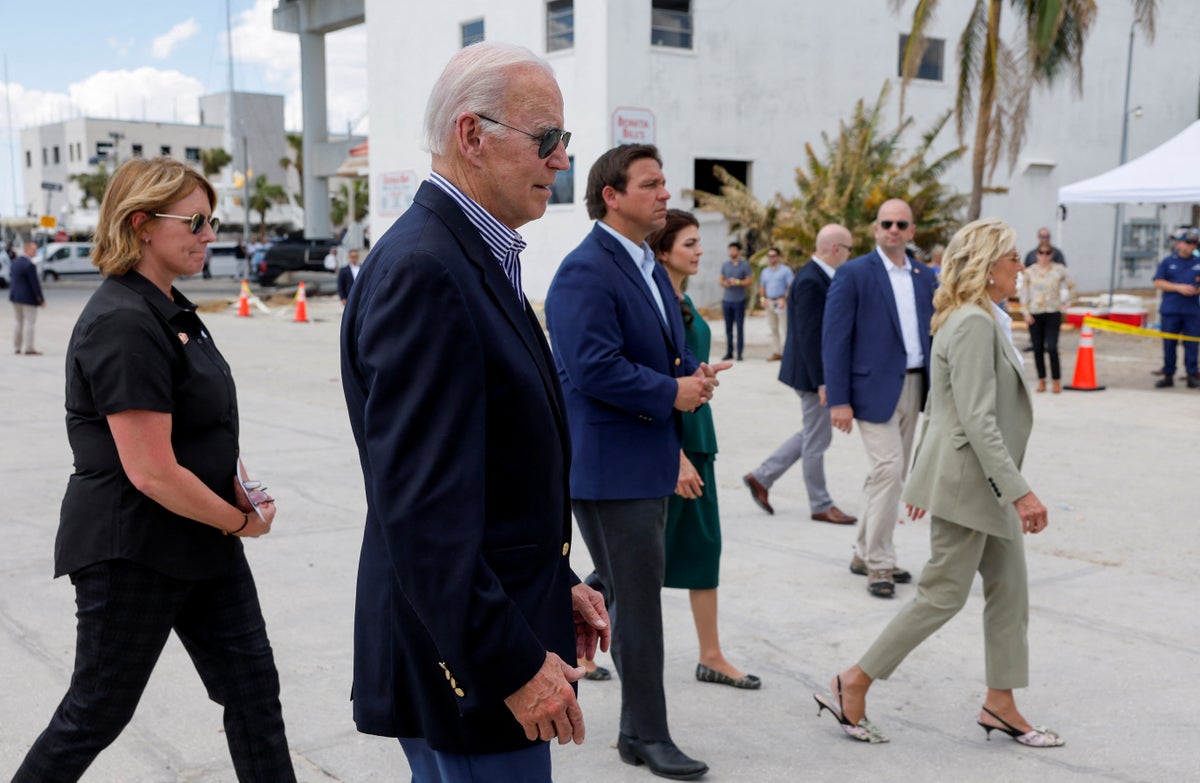 President Joe Biden on Wednesday toured scenes of devastation left in Fort Myers, Florida by Hurricane Ian last week alongside a frequent nemesis and potential 2024 election opponent, Florida governor Ron DeSantis.
Mr DeSantis and his wife Casey greeted Mr Biden and First Lady Jill Biden upon arrival at Fisherman's Wharf in Fort Myers. The two men spoke to several groups of residents before moving to a briefing with Federal Emergency Management Agency administrator Deanne Criswell.
Mr DeSantis made a point of thanking Mr Biden and his administration at the outset of the briefing for the significant federal assistance the president has authorised since just before Ian slammed into Florida's west coast.
"Thanks to President Biden … we now have over 97 per cent of power in Florida," Mr DeSantis said, rattling off a lengthy description of what has been accomplished since the storm hit.
"It's been a team effort and we really appreciate what you guys have been able to do," he added.
President Biden issued a major disaster declaration for Florida in the wake of Hurricane Ian that provided individual assistance and debris removal for 17 counties, and the Indigenous Seminole Tribe of Florida, along with for costs associated with search and rescue, sheltering, feeding, and other emergency measures to save lives for 30 days.
Ahead of his visit he made additional federal funding available to Florida for another 30 days of assistance.
The near Category 5 storm is one of the strongest in Florida's history, slamming into the state last week with 155mph winds, heavy rain, and powerful storm surge which overwhelmed communities. The hurricane then ploughed across the state, dropping several feet of rain in cities hundreds of miles inland.
At least 100 people have been killed in Florida. Over half of the deaths were in Lee County, where multiple neighbourhoods were wiped out by the impacts.
Early estimates put the damages from Hurricane Ian somewhere between $28bn to $47bn. Thousands of people have lost their homes with a significant number lacking insurance, and the Federal Emergency Management Agency (Fema) is preparing for potentially thousands of people to be long-term displaced.
Fema Director Deanne Criswell called the impacts "catastrophic" last week.
Source link