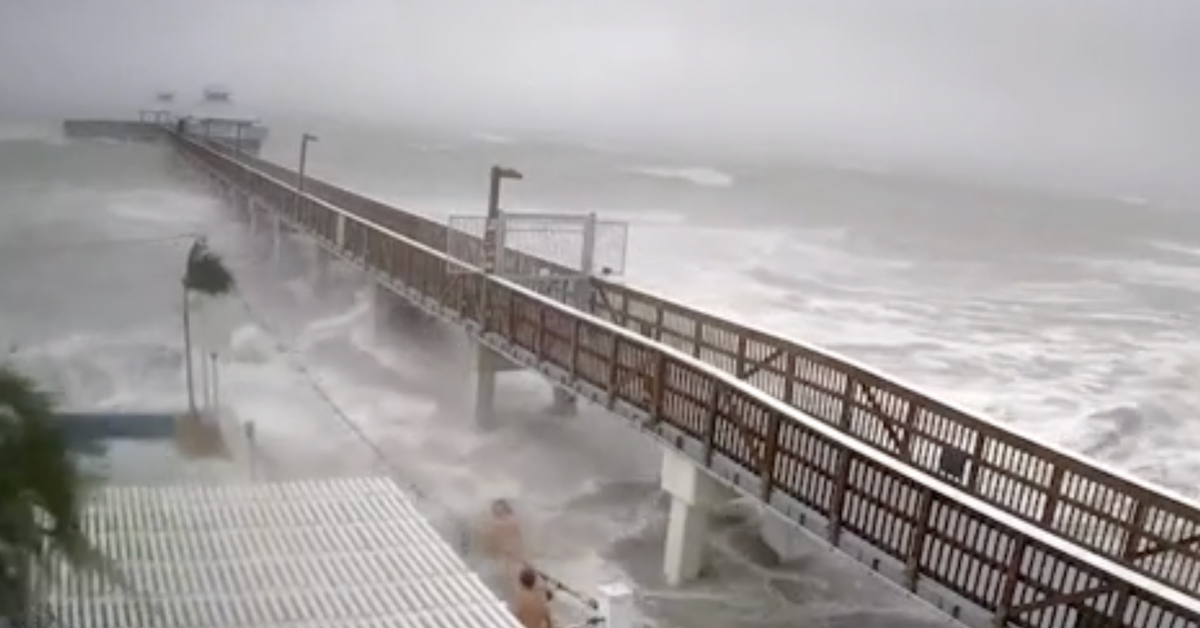 Three people were spotted swimming along the beach in Fort Myers, Florida, on Wednesday as Hurricane Ian brought perilous conditions to the shore.
The area is under an evacuation order, and officials have urged people to leave the area and get to high ground as the hurricane approaches. Going swimming as the hurricane hits is extremely dangerous.
People took to social media to express anger and frustration with the swimmers.
"DO NOT DO THIS," said Brenna Weick, a reporter at NBC 2 News in Florida on Twitter. "I can't stress enough how dangerous this is."
The three people were seen entering the churning waters near a pier. After splashing around for a while, they appeared to retreat onto the beach. As they swam, waters splashed up feet above them and onto the pier, demonstrating the extraordinarily precarious position they put themselves in.
More than two million people were placed under evacuation orders in Florida as Ian moved in, and many people did leave home for safer areas. Some have flaunted these warnings, staying put or even venturing out into dangerous conditions.
In Key West, Florida, which isn't forecast to see as much damage as the Fort Myers area, kids were filmed swimming and surfing in the rough seas as Ian churned up the water.
Up to 18 feet (5.5 metres) of storm surge is expected in the Fort Myers area as the hurricane moves in, according to the National Hurricane Centre (NHC).
"Residents in these areas should urgently follow any evacuation orders," the agency warns.
In addition, severe rain and extreme winds will combine with the storm surge to create "catastrophic" and "life-threatening" conditions, NHC warns.
The storm is a powerful Category 4 storm — nearly Category 5 — with the eyewall expected to make landfall in southwest Florida within the next few hours.
These kinds of extreme storms are likely to become more common as the climate crisis grows. Warmer oceans can supercharge a storm, adding massive amounts of rain and windpower to a hurricane as it nears land – and spur the kind of rapid intensification Hurricane Ian has seen over the past two days.