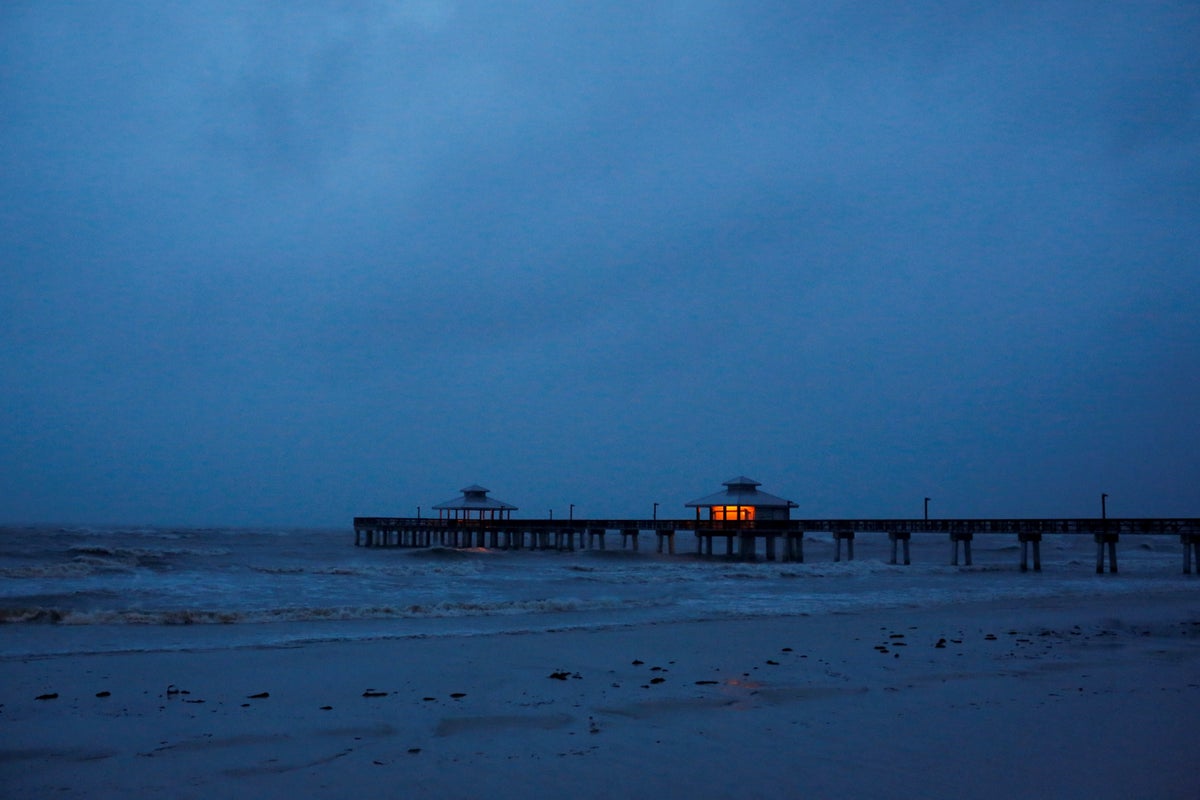 Hurricane Ian is just shy of becoming a Category 5 storm as it charges toward Florida's west coast, packing winds of 155 mph.
The storm intensified into an "extremely dangerous" Category 4 hurricane on Wednesday and is now rapidly approaching the top end of that category, according to the US National Hurricane Center. It is expected to make landfall later on Wednesday.
Life-threatening storm surges of up to 16 feet, catastrophic winds and flash flooding are expected in the Florida peninsula. Tornadoes are also possible across central and south of the state, according to the National Hurricane Center.
The hurricane was around 55 miles west south-west of Naples, Flordia and about 60 miles south south-west of Punta Gorda, Flordia at 8a.m. ET (1 pm BST). Hurricane-force winds extend outward up to 40 miles from the center of the storm and tropical-storm-force winds up to 175 miles, accoridng to the update.
A storm surge warning is in effect for the Suwannee River, Tampa Bay and for the Lower Florida Keys, among other places. This means there is a danger of flooding from rising water moving inland from the coast.
"This is a life-threatening situation," the hurricane center said. "Promptly follow evacuation and other instructions from local officials."
Category 4 hurricanes pack winds of between 130 and 156 mph, while a Category 5 storm is one with winds of 157 mph or higher, according to the Saffir-Simpson Hurricane Wind Scale. Both categories of storm can cause "catastrophic damage".
In a Category 4 storm well-built framed homes may lose roofs or some exterior walls, most trees will be snapped or uprooted and power poles downed, according to the Saffir-Simpson Hurricane Wind Scale. Power outages can last for weeks or even months, and the area can be uninhabitable for a similar period of time, it says.
In a Category 5 storm, a higher percentage of framed homes will be destroyed, with "total roof failure" and wall collapse.
While the number of hurricanes, cyclones and typhoons has not changed globally, climate scientists say the climate crisis has increased the intensity of these types of storms. The extreme rainfall associated with the storms has increased substantially, for example, and storm surges are higher due to sea-level rises.
Hurricane Ian battered the western top of Cuba on Tuesday, knocking out the electricity grid and leaving the entire island – 11 million people – without power. Two people were reported to have died.
Meanwhile, at least 2.5 million Florida residents have been told to evacuate in anticipation of flash flooding, storm surges and hurricane-force winds.
The center said some fluctuations in Hurricane Ian's intensity are possible before the storm reaches the coast of Florida on Wednesday, but is expected to approach land as an "extremely dangerous" major hurricane. Weakening is expected after landfall.
The center of Ian is forecast to move over central Florida Wednesday night into Thursday and emerge over the western Atlantic by late Thursday, the center said.
Storm surges will be deepest along the coast near and to the right of the center, where the surge will be accompanied by large waves. Catastrophic wind damage is likely where the eye of the storm makes landfall, with hurricane conditions beginning within the Hurricane Warning area along the west coast of Florida later Wednesday morning.
Parts of the state could see rainfall of up to 24 inches.
"Widespread, life-threatening catastrophic flash, urban, and river flooding is expected across central Florida," the center said. "Widespread considerable flash, urban, and river flooding is expected across portions of southern Florida through Wednesday, and northeast Florida, southeastern Georgia, and coastal South Carolina later this week through the weekend."
Ian will also generate considerable swells, which are likely to cause life-threatening surf and rip currenet conditions.
Source link